2003 Porsche 911 (996) Turbo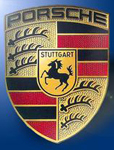 Her name is Athena (goddess of heroic endeavor, companion of heroes). Picked up this dream car on 2006.12.04 with 15,435 miles on it after scouring the country for over a month for the perfect deal, features, options, color, price, miles, dealer, etc.
Ever since I was a kid, the Porsche has always held that special head-turning "oh my" quality, but it was always someone else driving it by, well…no more of that! 🙂
I figured I'd better pick this up sooner rather than later; can't have people saying it's a mid-life-crisis car.
Learn how to pronouce Porsche (POR-shuh) properly, and stand your ground against all the TV shows, radio, movies, and likely your friends who don't. On your next trip to Europe when renting a GT3-RS for Autobahn fun, you'll be happy you did.
The Porsche 911 heritage http://en.wikipedia.org/wiki/Porsche_911
Higher quality photos at:
https://photos.eriel.com/Cars/Athena-My-Porsche-911-Turbo/
Mods to date:
Bilstein PSS9 Coil-Over suspension system
FVD 996 618 40: ECU software upgrade taking specs to:

490 hp (18% increase over factory)
542 lb-ft torque (31% increase over factory)
Max rpm 7000
0-60 mph 3.6 seconds
Top track speed 198 mph

HRE P40 Monoblok 19″ wheels
Windows tinted with 3M CS35 (38% light pass-through)
GT2 Wing